I am addicted to cosmetics and skin care products. I really am. The nice people at Betty Ford need to make a wing especially for me. No they don't. I could never give it up. I could stand at a makeup counter for hours. I could peruse the makeup section of any department/drug store for days. I would love to know how much money I have spent on beauty products. Actually, no, no I wouldn't; I could probably have bought a car. That's ok though, it makes me happy. It's like a hobby for me; trying to fix myself.
Anyway, my point, and I do have one; I have found the ultimate "happy" in skincare. It's this. . .
L'Oreal Go 360 Clean
It comes in different types too.
I got the cream cleanser because my skin dries like the Sahara in the winter time. Come summertime, I'll probably need to explore the other kinds of this line.
The most awesome part? That little oval in the center pops out, and you have what L'Oreal has aptly named . . . the scrublet.
When I first saw this on TV, I thought the scrublet was made out of hard plastic, and would scrub the hide off of one's skin. It's not though; it's either silicone or very soft rubber. It feels like a million little fingers getting in every pore and scrubbing the crud out of it, but in a way that will not irritate your skin. Mine is pretty fragile, especially in the winter; and after I put a little of this. . .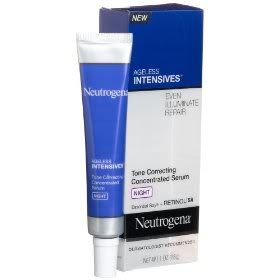 Neutrogena Ageless Intensives Tone Correcting Night Serum.
They make a day version too that's a cream, but I love the feel of the night serum.
My skin felt amazing.
Dudes also should take advantage of this too; especially dudes that keep some scruff on his face. By the way, thank you for keeping it there, YUM! The little fingers in the scrublet will really get into those facial hairs and give the skin underneath a good polishing. Don't feel like a puss for going to a store to buy it either . . . girls love a guy with nice skin. :~)
So yeah, I love this so much I had to blog about it. You guys all go get some so they won't stop making it! I'm saving all the scrublets from every bottle I buy just in case they do. . . .